Discussions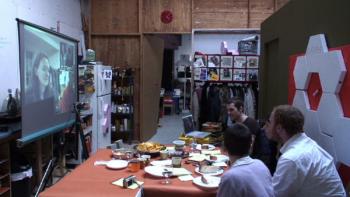 Weekly potluck chats (on skype)
Tuesdays; 6.00 - 8.00 PM
Join us every Tuesday night – on Skype, skypename: 'basekamp'
We plan to also meet in person, now at various locations. Let us know if you'd like to join us.
Lists
Sign up here to receive info about each week's invited guest, and join the discussion list that accompanies these weekly chats. Feel free to post comments and reply to others on the discussion list. It makes the it more interesting! If you want to send us a private message contact us here.
IRC

channels

If you use IRC, we occupy the #basekamp & #plausibleartworlds channels on Freenode. Come on in! try our IRC webchat page. (if you want to set up your own IRC client, try Colloquy for mac or pick a different client). If we're not on IRC, you might want to say hi to our robot, "botkamp" – who's also handy for passing messages.